If there was anything that this year taught us, it is how valuable mobile connection with a user base is. Whether it is maximizing your website for mobile devices or creating your own mobile application for a better user experience, businesses are moving towards a broader audience through mobile maximization. 
JIFU has upgraded our mobile application into JIFU 2.0, available in both the Apple Store and Google Play. JIFU is a global company, so we are hyper-aware of how important it is for our members and affiliates to be able to easily access all the available tools in a convenient way. In fact, Sensor Tower predicts that app downloads will reach 44.5 billion by 2024. It is clear that users expect to be able to download an easy-to-use app, regardless of the service or product provided. 
JIFU 2.0 harnesses the power of convenience and transforms it into your most powerful sales and marketing tool. Increase the potential for income with the ability to mobiley follow up with sales leads and keep track of your top performers by utilizing the link-click confirmation system.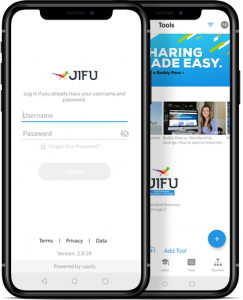 Currently, we are working with our teams to ensure that our apps are globally translated and usable for our wide non-American user base. JIFU suggests this to any entrepreneur looking to create their own app. According to data collected by App Annie, China accounts for around 45% of global app downloads, so it is important to ensure that a global market is not excluded. 
Additionally, our new app makes it easy to communicate with a team or potential new team members. Users can easily share buddy passes as well as digital brand assets only available via app. It is also always a good idea to have a pro version of your app with special content for those who invest in their own success. 
JIFU 2.0  Pro enables users to seamlessly view the app onto their desktop, as well as incorporate drip down email and extended sales reports/analytics. Another great feature of the pro app is the ability to share personalized and interactive content for the user's own team and customer base.
The usability of mobile app is especially important for those interested in ecommerce, considering that 67% of users used a mobile shopping app in Q1 of 2020, and that 52% of those people actually bought something using that app. Whatever it is you're selling, there undoubtedly are people somewhere out there who want to buy it. Make it easy with a mobile app! 
Be sure to download the JIFU 2.0 app and become a member today! Enjoy the streamlined user interface and simple usability. We are always improving, so be sure to follow this account and our social media for inspiration and updates.