Why would I watch a virtual tour of a museum? 
Let me tell you why… First, it's FREE, second, you can immerse yourself in rich history and beautiful art all in the comfort of your pj's, and third, there are no lines! So now that I have given you three awesome points as to why virtual museums are great, let me give you my top choices to explore online. These museums offer great virtual tours. 
The Vatican Museums, Rome Italy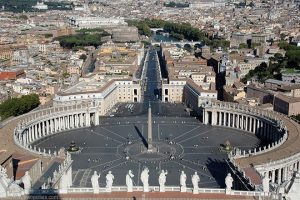 Let yourself get lost in the vast and awe-inspiring art and sculptures that the Vatican has to offer. Explore the beauty of the Sistine Chapel and see the famous paintings of Michaelangelo. 
       2. Natural History Museum, London England 
Dive into the past with amazing archaeological finds such as dinosaurs, and learn about the findings of Charles Darwin and his theory of Evolution. This museum has hundreds of interesting and exciting collections to look at and learn about. 
      3. The Louvre, Paris France 
The Louvre is one of the world's largest museums and of course one of Paris's most iconic landmarks. You can take a look at many exhibits such as the Egyptian antiquities or the famous remains of the Louvre's Moat that was built in 1190. 
NASA, Langley Research Center, Virginia 
Take a leap into space and time while virtually visiting NASA. You can take flight into space exploration, or stay on solid ground and learn about Atmospheric Science. This virtual tour has many areas to explore and lots of interesting videos to enhance your experience. 
National Museum of Modern and Contemporary  Art, Seoul South Korea 
This museum aims to establish very interactive communication with society and has a four museum system that interacts organically. You can pick and choose from multiple genres, such as calligraphy and literature or photography and print. This tour will open your eyes to many fascinating pieces of art. 
Now go and learn something new today!